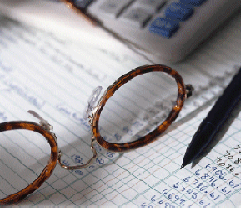 As a small business owner you have more important things to do than to keep your own records and books. We take care of this for you, so you can get back to what you do best, the job of running your business and generating profits. Each month or quarter we will complete the following tasks for you:
~ Reconcile your Bank and Credit Card Account(s)
~ Generate an Income Statement
~ Generate a Balance Sheet
~ Make necessary General Ledger entries
~ Provide any necessary consultations
These tasks form a solid foundation for your small business or not-for-profit accounting system. You can customize the package of services you receive by adding payables, receivables, payroll, tax planning, tax preparation, or any of our other business services.
Fees
While our fees are typically fixed, they are based on the effort it takes to complete the job. To get an accurate estimate, we will need to see the actual source bookkeeping information (i.e. bank statements, credit card statements, check register, etc.). To determine a rough estimation we can use the number of transactions that will need to be processed for the accounting period covered (month or quarter). For this estimate, use $3 per transaction. For an example of how our bookkeeping fee estimates are applied, see below:


| | |
| --- | --- |
| 20 Checks @ $3.00/ea | $ 60.00 |
| 10 Credit Card Transactions @ $3.00/ea | 30.00 |
| 5 Journal Entries @ $3.00/ea | 15.00 |
| Total Periodic Fee: | $105.00 |

Our minimum periodic fee is $80.00.

*The accounting services provided by Mother Lode Bookkeeping, Inc. and its employees do not require a state license.